Smile-Filled Self Esteem Quotes
In adding these self esteem quotes to my site, my intention was to uplift my readers, you, even more than you already are.
With even greater confidence in ourselves, even higher self-esteem, we are vibrating at a frequency that is more and more in alignment with the totality of who we really are! Then intuitive development is a natural by-product, and we soar!
May these quotes about self esteem heighten your feel-good, unconditional confidence in yourself!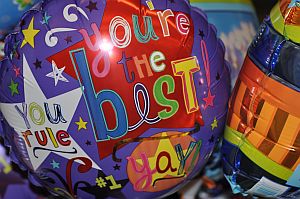 We Can All Rule With Our #1 Best Selves!
"We cannot rise higher than our thought of ourselves."
Orison Swett Marden
"The strongest single factor in prosperity consciousness is self-esteem: believing you can do it, believing you deserve it, believing you will get it."
Jerry Gillies
"Self-esteem isn't everything; it's just that there's nothing without it."
Gloria Steinem
"Are you understanding that appreciation and self-love is the most important tool that you could ever nurture, that the appreciation of others and the appreciation of yourself is the closest vibrational match to your Source energy of anything that we have ever witnessed? When you are appreciating or when you are loving or when you are acknowledging the value of something, you are in that moment a vibrational match to the Source that is truly you. Do not worry about where you are at any point in time. Don't take score and beat up on yourself. Just make a decision that from right here where I stand I'm going to reach for the thought that feels the very best of anything I have access to, and understand that your Inner Being is adoring you always."
Abraham-Hicks
"I think the reward for conformity is that everyone likes you except yourself."
Rita Mae Brown
More Self Esteem Quotes…
"Sweet Goddess, born of a blinding light and a changing wind, don't be modest – you know who you are and where you've been."
Bob Dylan
"Until you value yourself, you can't expect anyone else to do so."
John F. Demartini
"You are here to enable the divine purpose of the Universe to unfold. That is how important you are!"
Eckhart Tolle
"Yeah we all shine on, like the moon, and the stars, and the sun."
John Lennon
"You're not free, unless you come to the place where you have nothing to prove."
Joyce Meyer
"The more you like yourself, the less you are like anyone else, which makes you unique."
Walt Disney
More Self Esteem Quotes…
"Self esteem is primarily about the confidence to believe and follow the wisdom of your own heart. And your heart guides you in response to your truest desires."
Karen Whitaker
"Work out your own salvation. Do not depend on others."
Buddha
"No amount of self-improvement can make up for any lack of self-acceptance."
Robert Holden
"No one can make you feel inferior without your consent."
Eleanor Roosevelt
"You cannot be lonely if you like the person you're alone with."
Wayne Dyer
"We must overcome the notion that we must be regular... it robs you of the chance to be extraordinary and leads you to the mediocre."
Uta Hage
More Self Esteem Quotes…
"At the end of the day, you won't be happy until you love yourself."
Lady Gaga
"I have always regarded myself as the pillar of my life."
Meryl Streep
"Self-esteem is as important to our well-being as legs are to a table. It is essential for physical and mental health and for happiness."
Louise Hart
"When you feel in your gut what you are and then dynamically pursue it - don't back down and don't give up - then you're going to mystify a lot of folks."
Bob Dylan
"Today you are you, that is truer than true. There is no one alive who is youer than you."
Dr. Seuss
"Self-approval and self-acceptance in the now are the main keys to positive changes in every area of our lives."
Louise Hay
More Self Esteem Quotes…
"Whatever you are doing, love yourself for doing it. Whatever you are feeling, love yourself for feeling it."
Thaddeus Golas
"The Universe is responding to who you FEEL you are."
Abraham-Hicks
"We will discover the nature of our particular genius when we stop trying to conform to our own or other people's models, learn to be ourselves, and allow our natural channel to open."
Shakti Gawain
"You are always a valuable, worthwhile human being -- not because anybody says so, not because you're successful, not because you make a lot of money -- but because you decide to believe it and for no other reason."
Wayne Dyer
"When you take charge of your life, there is no longer need to ask permission of other people or society at large. When you ask permission, you give someone veto power over your life."
Geoffrey F. Abert
More Self Esteem Quotes…
"Dedicate yourself to the good you deserve and desire for yourself. Give yourself peace of mind. You deserve to be happy. You deserve delight."
Hannah Arendt
"Self esteem is the reputation we acquire with ourselves."
Nathaniel Branden
"To establish true self-esteem we must concentrate on our successes and forget about the failures and the negatives in our lives."
Denis Waitley
"The privilege of a lifetime is being who you are."
Joseph Campbell
"If you could only sense how important you are to the lives of those you meet; how important you can be to the people you may never even dream of. There is something of yourself that you leave at every meeting with another person."
Fred Rogers
More Self Esteem Quotes…
"Having self esteem is loving yourself as your Source Self always does!"
Karen Whitaker
"Greatness exists like an ocean within you. Why do you want to act like a fish out of water, wriggling on the sand under the scorching sun? Look! The water is just one millimeter away! Jump in!"
Gurumayi Chidvilasananda
"Don't back down just to keep the peace. Standing up for your beliefs builds self-confidence and self-esteem."
Oprah Winfrey
"I was always looking outside myself for strength and confidence but it comes from within. It is there all the time."
Anna Freud
"Knowing yourself is the beginning of all wisdom."
Aristotle
More Self Esteem Quotes…
"It is easy to live for others, everybody does. I call on you to live for yourselves."
Ralph Waldo Emerson
"The finest thing in the world is knowing how to belong to oneself."
Michel de Montaigne
"We all have ability. The difference is how we use it."
Stevie Wonder
"Self-acceptance is my refusal to be in an adversarial relationship to myself."
Nathaniel Branden
"My family has reduced the effect of my career on my self-esteem. When I'm with them, they make me feel special regardless of how I play."
Phil Mickelson, professional golfer
More Self Esteem Quotes…
"Contrary to popular thinking, being worthy isn't something you earn, it's something you recognize."
Mike Dooley
"If you were listening to the hypnotic voice of your Source, you'd be constantly hearing the drum beating that says, 'You are loved, and you are worthy, and you are valued and life is supposed to be good for you. You are worthy, you are valued, you are loved and life is supposed to be good for you.'"
Abraham-Hicks
"Someone's opinion of you does not have to become your reality."
Les Brown
"Too many people overvalue what they are not and undervalue what they are."
Malcolm Forbes
"You, being yourself, help others be themselves. Because you recognize your own uniqueness you will not need to dominate others, nor cringe before them."
Seth/Jane Roberts From The Nature of Personal Reality
More Self Esteem Quotes…
"Change and growth take place when a person has risked himself and dares to become involved with experimenting with his own life."
Herbert Otto
"You can search throughout the entire universe for someone who is more deserving of your love and affection than you are yourself, and that person is not to be found anywhere. You yourself, as much as anybody in the entire universe, deserve your love and affection."
Buddha
"When you offer a vibration, the Universal forces are working in concert with each other in order to satisfy you. You really are the center of the Universe."
Abraham-Hicks
"You alone are the judge of your worth and your goal is to discover infinite worth in yourself, no matter what anyone else thinks."
Deepak Chopra
"If we did the things we are capable of, we would astound ourselves."
Thomas Edison
More Self Esteem Quotes…
"At the center of your being you have the answer; you know who you are and you know what you want."
Lao Tzu
"The reputation you have with yourself – your self-esteem – is the single most important factor for a fulfilling life."
Nathaniel Branden
"To be beautiful means to be yourself. You don't need to be accepted by others. You need to accept yourself."
Thich Nhat Hanh
"Limitless like the ocean are your excellent qualities."
Dalai Lama
"You already have inside you everything you've ever wanted or looked for elsewhere."
Sara Avant Stover
More Self Esteem Quotes…
"The snow goose need not bathe to make itself white. Neither need you do anything but be yourself."
Lao-Tse
"You are not here to prove worthiness. You are here to extend the creation, creator, creating that you are."
Abraham-Hicks
"Find out who you are and do it on purpose."
Dolly Parton
"You're braver than you believe, and stronger than you seem, and smarter than you think."
A. A. Milne
"True self-esteem is realizing that you are valuable because you were born. No matter where you come from, what color you skin is, what people say about your family or what mean things people may have done to you, because you were born, you are important and you matter."
Oprah Winfrey
More Self Esteem Quotes…
"To reach a higher level of being, you must assume a higher concept of yourself."
Neville Goddard, from The Power of Awareness
"I am larger, better than I thought; I did not know I held so much goodness."
Walt Whitman
"I celebrate myself, and sing myself."
Walt Whitman
---

I hope you enjoyed these self esteem quotes and their empowering messages! Have an awesome, uplifted day!!
If any great self esteem quotes come across your experience, and you are inspired to share them with me, please do! :)

Be the BIG LOVE you are!
~ Karen Whitaker
Life Transformation Specialist

Last updated August 26, 2016
*Please note: All quotes are the copyright of their respective owners.
This article was printed from ManifestIntuition.com