Inspiration To
Manifest Your Highest and Best
With Your Intuition!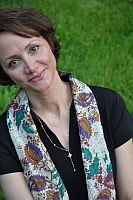 Welcome! I'm so delighted you've found your way here!
Why look outside yourself when your intuition gives you access to the best personal guidance system around? It's *better* than an instruction manual for your life!
It's free, interactive, personalized, always with you, always reliable, always leading you toward your highest aspirations and heart-felt desires...your best possible life.
We are all hard-wired to naturally receive guidance through intuition. For most of us, social conditioning at a young age distracted us from communing with our Higher Consciousness, God, our eternal Spirit, our Source within.
The good news is, it's never too late to resume and open even more to awareness of this profound, thrilling and life-giving experience of conscious connection with our Spirit selves.
Receiving intuitive guidance assists you in living your life in partnership with the Universal Spirit. You can then bring awareness of ALL of YOU into your human experience. The small fraction of you in your human, physical expression can join forces with the bigger part of YOU in your Spirit, non-physical expression.
Awakening and Blending
Consciously With Your Spirit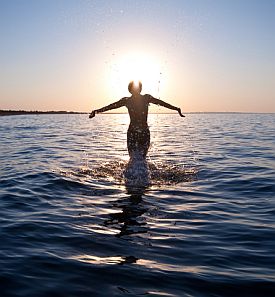 Awareness of this union of physical you with non-physical YOU is the wholeness, the "something missing" that so many seek to have more consistently in their lives.
It's the glorious experience of being filled with love and bliss and clarity. It's our true, natural state of being.
The more we develop and follow our inner guidance to align with awareness of the totality of who we really are, the better we feel. We're flowing more with our life, rather than resisting so much of it.
We're naturally attracting and manifesting our hearts' desires, rather than restricting the good we will allow ourselves to experience. Our guided lives unfold with expanding awareness, clarity, purpose, meaning and joy!
---


On this site I offer inspired information about:
Intuition
Understanding, Trusting and Developing It
Following It to Align With Awareness of the Empowered Totality of YOU and
Consciously using It With Law of Attraction to Manifest What You Really Want In Your Life.
Enjoy roaming this site for articles, quotes, Law of Attraction principles, exercises (with information on meditations, visualizations, healing supports, and journalling) and recommendations. I bring to this site 25+ years of personal and professional experience using my awakened intuition.
---
manifestintuition.com:
On merriam-webster.com,
manifest
means - easily understood or recognized by the mind (adjective) and to make evident or certain by showing or displaying (transitive verb).
Aligning With The Empowered Totality of YOU!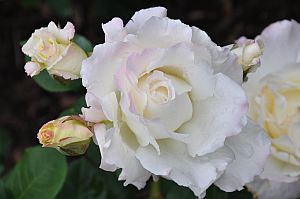 May the information on this site assist you in more clearly understanding, recognizing, making evident and certain the experience of your intuition!
---
This site was meant to be an ongoing resource for your journey, continuing to expand and evolve, just like you! Be sure to bookmark this site and check in for frequent additions...
We're all in this together! I'm so excited to connect with you in this space! And to share the love of a guided life, partnered with Spirit every step of the way...
Be the BIG LOVE you are!
Karen Whitaker
Last updated March 23, 2019
"Always we hope
Someone else has the answer…
At the center of your being
You have the answer,
You know who you are
And you know what you want.
There is no need
To run outside
For better seeing.
Nor to peer from a window.
Rather Abide at the center of your being;
For the more you leave it, the less you learn.
Search your heart
And see
The way to do
Is to be.
~Lao Tzu
Please click the links below for more information!
Here you can read about the author, Karen Whitaker, and the creation of manifestintuition.com
Dictionary definitions only begin to answer the question: What is intuition? Intuition utilizes right and left brain functioning to tune in to an expanded reality, your personal inner Truth.
Developing intuition by aligning with your highest inner Truth--three-part process, your intuitive style, law of attraction, journalling.
Which types of psychic abilities /intuitive abilities are you already using, which do you want to develop? Clairvoyance, clairaudience, and more…
This second page on psychic abilities / intuitive abilities describes clairtangency, clairgustance, clairalience and claircognizance.
Extrasensory perception /intuition has countless uses! Here are some cool examples and descriptions: medical intuition, channelling, business intuition, psychic artwork, trance dance and more…
Learn about your human aura, chakras and meridians. The relationship between your energy systems, intuition, and well-being. Body scan, grounding, psychic energy…
Allow your alignment with who you really are with these feel-good, positive thinking quotes! Loving quotes, yoga quotes, quotes on happiness and more…
Open to your natural intuitive / psychic ability with psychic training! Helpful experiences and practical tips to develop your intuition / psychic awareness.
Open to becoming psychic / intuitive more and more in your life with the support of this free training program! Self-guided experiences, helpful tips.
Communicating with God and developing intuition - self-guided experiences, practical tips. conversation with God, connecting with angels, nonlinear time, quotes.
communicating withgod, develop psychic abilities - self-guided experiences and tips, symbology, understanding dreams, Law of Attraction, quotes.
If you do not agree to ManifestIntuition.com's Privacy Policy as posted here on this website, please do not use this site or any…
This disclaimer statement describes the terms of use for this site.
Contact Karen here for questions, comments, suggestions, stories, to inquire about or schedule ISIS work, or make a donation
Testimonials
"I found Manifest Intuition after having some intense personal experiences with intuitive phenomena. I wasn't sure how to interpret these events, and I didn't feel like I had anyone to talk to about them. I felt very alone, and like I wasn't "in control" of myself or my mind! I was losing sleep and feeling very anxious. So after some internet searching, I found Manifest Intuition and I reached out to Karen for a session to get some guidance from her. In the weeks leading up to the session, I was able to successfully implement some of the techniques outlined on the website to help enhance my intuitive receptivity in a positive manner. I found Karen's guidance and advice extremely helpful. Even though I approached the session with some skepticism, after talking to Karen for just a few minutes I found that I had utmost confidence in her experience. Since our session, my intuitive development has made a complete 180 from a confusing, chaotic, and upsetting experience to a mindful, helpful, positive part of my life. I even captured some happy little orbs on camera this weekend without even trying - to me, this is a perfect indication that Karen helped steer me in the right direction! A session with her is well worth the investment for anyone seeking guidance in their intuitive development like me. I can't thank Karen enough for her great work!
~Cait W., Virginia"
~~~~~~~~~~~~~~~~~~
"Karen has the skill to create a safe environment in which you can explore the places where you are the most comfortable accessing your intuition. And, her own intuitive abilities and energy also provide a safe space for this exploration.
~Leigh Perry, Sarasota, FL"
~~~~~~~~~~~~~~~~~~
"Just found your material and am so grateful and
delighted 🙏 🙋.
~Tovah Delmont, New Jersey"
~~~~~~~~~~~~~~~~~~
"Karen, you have given words to the feelings that were floating inside of me. With your channelling I felt totally affirmed-what I was sensing is so! I want to thank you once again for your powerful and affirming reading. Thank you for channelling me back into a state of wholeness as I resonated with your inner knowing and claimed my true identity and authentic Self. Your channelling is a beautiful gift; a crystal that has so many facets of light inside-each one true, and opening up a path of exploration. I feel Grace in the accuracy and clarity of your words. Thank you for offering me such a beautiful, strong, profound and insightful articulation of my process of growth. Please continue to share your great gift.
Namaste,
Eileen Grizer Feinman
www.interfaithwedding
rituals.com"
~~~~~~~~~~~~~~~~~~
"I've had the pleasure of knowing Karen for several years. We've had regular monthly calls for all of that time and she's an amazing intuitive and healer. Her spiritual guidance has been an integral part of my personal evolution. She is extraordinarily knowledgeable about energy and various healing modalities. And what was most important to me is that Karen practices all of the techniques that she shares with others. There is the highest level of integrity in her work and guidance. She's incredibly generous with her time and her spirit. She works with you from a completely nonjudgmental and objective place. You can trust that what she channels for you is pure. I would highly recommend working with Karen on your evolution into becoming more of who you really are.
~Jackie in Philadelphia"
~~~~~~~~~~~~~~~~~~
"Karen, I just finished my Abe meditation and went into my inner being meditation that you recommended [in our session]. Feeling so blissful, my inner being voice recommended that I email you and thank you while maintaining that blissful feeling. So, thank you! :) this is really beginning to bear wonderful fruit. The self loving messages I've been receiving are gradually seeping over into my daily awareness. So, in summary, I'm getting exactly what I wanted. Thank you! :) And it's meeting all the sub goals of appreciating myself in the areas of health, teaching, relationships, and music: I sang and played guitar with my band yesterday the best I ever have and it was the first time we've played together in 6 years!
Happy New Year. :)
~Tom M. in Long Island"
~~~~~~~~~~~~~~~~~~
"Thank you so much, Karen, for the impromptu intuitive session this morning! I was feeling a bit knotted up and confused, and your reading, your insights and your encouragement untied those knots and cleared away so much psychological and psychic debris. I am a new person. No, not a new person; just me, really ME again. Joy and light now flow freely again! You are such a wonderful combination of kindness and wisdom and I am grateful to have you in my life.
~Su Crutchfield in North Beach, MD"
~~~~~~~~~~~~~~~~~~
"I am incredibly grateful for Karen's intuitive guidance and knowledge. During times of grief, loss and stress I have found comfort and healing from our sessions. She has helped me to embrace who I really am; and encourages meditation and EFT that makes such a difference. There is a feeling of empowerment; and more awareness. It has really made a difference in focusing on positive energy within myself and others. Karen, thank you for your warmth and generous spirit!
~Amy Gifford, North Beach"